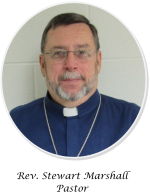 Welcome to the Web site of Trinity Lutheran Church

Right now, we are in the season of Pentecost in our church year, which is marked by green paraments (those are the colored cloths on the Altar, and that Pastor wears around his neck) Green celebrates life. We call the Pentecost Season the long green as it goes all through the summer. During this season the Gospel lesson tell us about Christ and his work, and teachings. Christ came to give us life.
We at Trinity Lutheran Church celebrate that life giving a message each and every Sunday as we hear and celebrate God's Word.
We also celebrate his Life when we partake in His Body and Blood through the Sacrament of Communion. In Communion we partake of Christ for our Eternal life, but also for our everyday life.
In the Sacrament we receive God's Holy Spirit to strengthen and encourage us day by day in this life now.


We welcome you to life!
Welcome to Trinity Lutheran Church, welcome to life!
Yours in Christ,
Pastor Marshall